First thing that is very important to mention....You don't have to scrapbook to partake of the goodness that is
DESIGN HOUSE DIGITAL.
This month we are working on hybrid projects. I have to say I was not too hip to what a hybrid project was before joining the team at DHD. I had done hybrid projects before but didn't even know that was what they were called!
It is sort of frightening and amazing at the same time some of the hybrid projects these women create!
Check out
THIS ONE
or
THIS ONE.
Are those creative enough for you?
Some hybrid projects I have worked on are.....
This baptism announcement
I wanted to make a special announcement for her and because of the colors I immediately thought of
Jen Allyson's
Vanity Fair coral papers and frames. I love the way it looks like the little girl is peeking through a field of wild flowers on the left hand side!
I just created a 5X7 template in photoshop and then layered all of the writing and photos. I stroked the main photo with a color from the papers and added the lyrics to a song around the outside in smaller scrolled writing so as not to distract from the photo and information.
This is another fun spring hybrid project.....
"
How happy does
Deena Rutter's
HAPPIER elements and paper make me you ask?
Oh, maybe you didn't ask? But I will tell you anyway!
They make me so happy that when it came time to change up the mantle for spring I printed off the sweet birds and word bubbles, added fun spring messages in them and clothes pinned them to the wonderfully twisting branch that I have lying across the mantle.
Then I used some flower templates found by google searching "flower templates" and printed a bunch of flowers and centers, multi layered them and used the puffy squares to adhere them to one another to give them a 3D look and added those here and there.
I love my "Happier" spring mantle!
And how about using them on clothing.....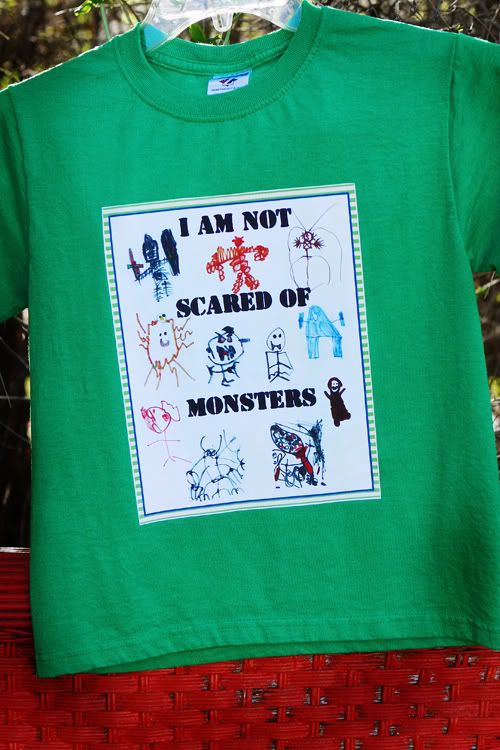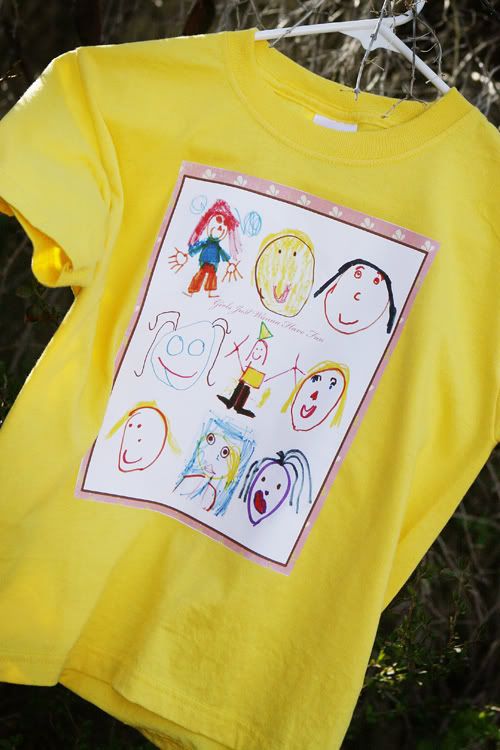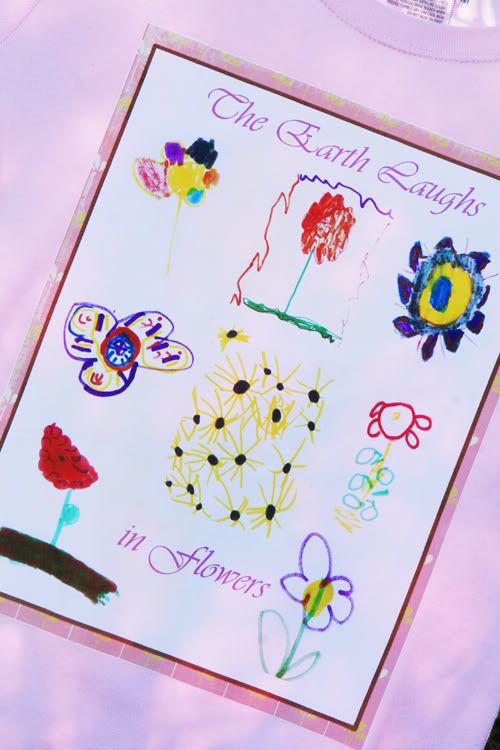 Last Friday was Art Night at my daughters school and I was put in charge of the kindergarten auction project. I cannot tell you the thought that I put into this....it was getting sort of crazy because I couldn't come up with anything that made me excited.
And then it hit me....T-SHIRT MANIA!!!!
*I had the kids do two handprint t-shirts (one girls and one boys with the teachers handprint on the back)
*Then I took a head shot of each child doing a smile and a crazy face and created a shirt with a collage of the kids and teacher on the front saying "Everything I need to know I learned in..." and on the back their crazy face collage and it says "Kindergarten!"
*The Boys drew monsters and bugs and the girls drew flowers and their faces which I then scanned in and resized laying them out as a collage and mounting them on
Carina Gardner's
"Oh Boy" The ABC's paper and "Pinfeathers Jumping Mushroom" paper for a little more oopmh!
One shirt says "We Are Not Scared of Monsters" the other shirt says "A Bug's Life"
and the girls shirts say "The Earth Laughs in Flowers" and "Girls Just Wanna Have Fun."
Stop by
DESIGN HOUSE DIGITAL
and see what clever hybrid projects you can come up with. And when you are done post them in the gallery!
And tomorrow there is a
BLOG HOP
that will be going on so if you stop in at DHD you can get this kit below for FREEEEEEEEEEE.